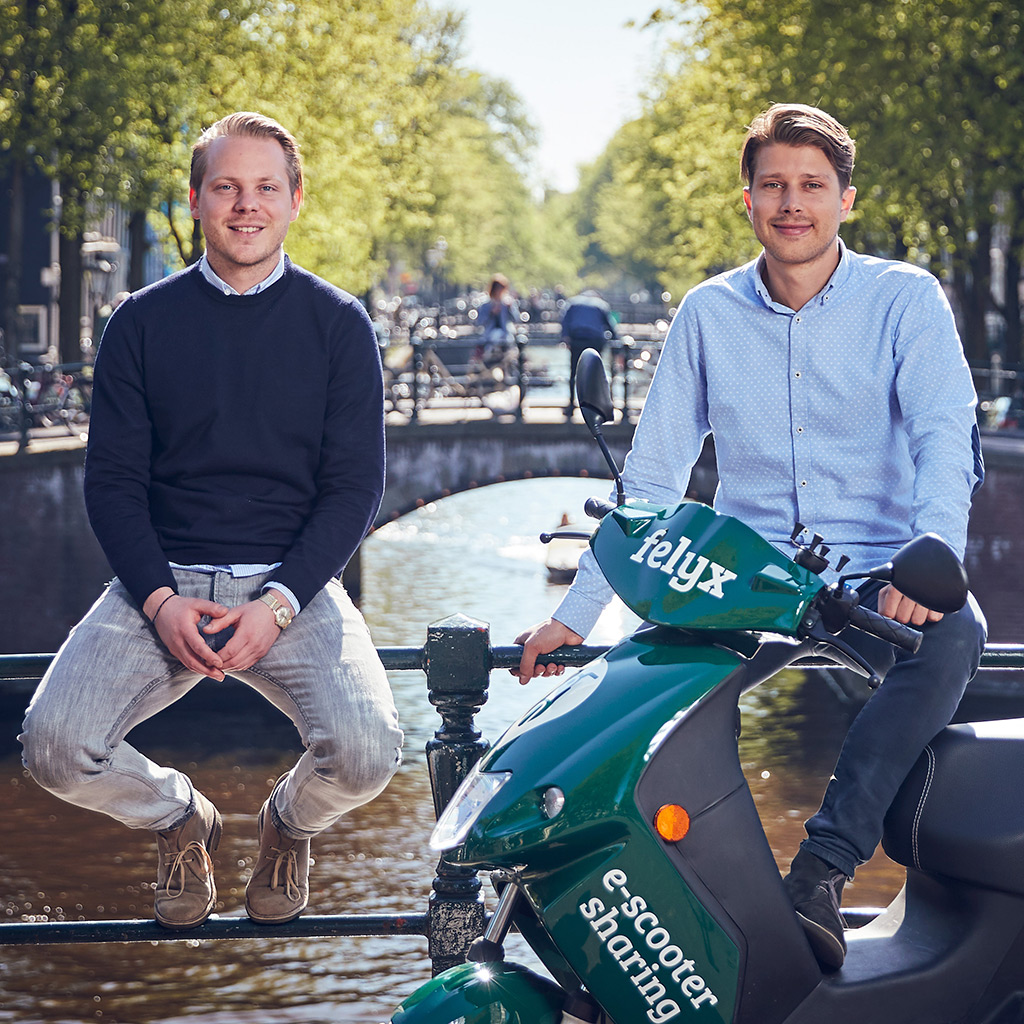 Interview with Quinten Selhorst & Maarten Poot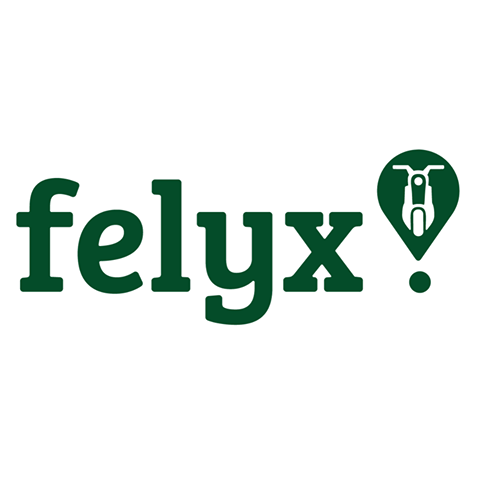 Quinten Selhorst & Maarten Poot, CO-Founders Felyx.
It takes guts to be an entrepreneur. And an excellent idea. Which is exactly what Quinten Selhorst and Maarten Poot, co-founders of felyx, had with the first free-floating scooter sharing system in The Netherlands. The sustainable urban mobility service is simple in use. By using an app, you can locate, reserve, and activate your e-scooter. Costs: 30 cents a minute. The sharing concept, much like car2go, is rapidly growing since its inception in August 2017. The founders are expanding on their dream. felyx is looking for a Global Expansion Manager tasked with rolling out the concept in Europe city by city.
Eureka moment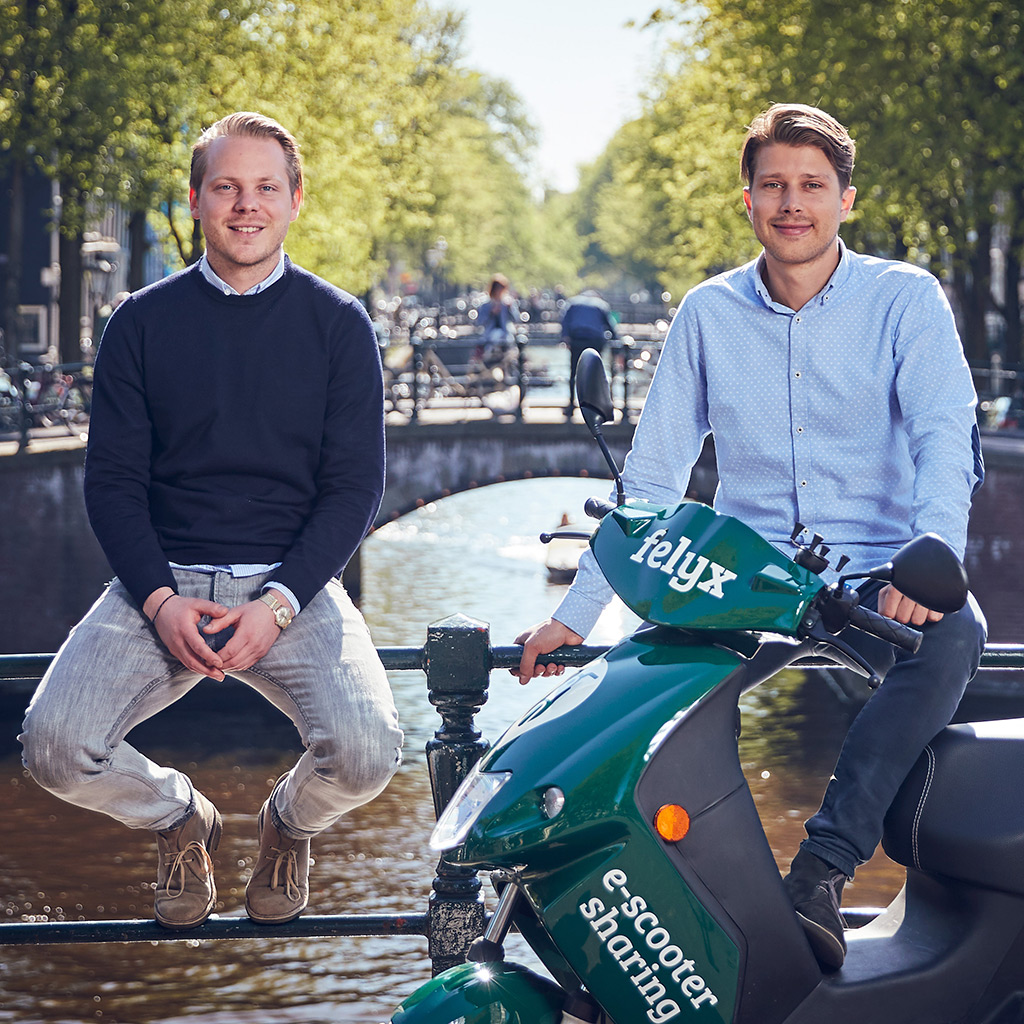 Quinten and Maarten had plans to start something for themselves for years. They just needed that 'this is it' feeling – an idea no one can deny. Both had already become successful consultants. Quinten at Arteria Consulting, a firm specialized in the Health Care industry; Maarten at SparkOptimus, a digital consultancy firm founded by McKinseyanen.
The comforts of a company car, nice offices and a comfortable salary were all thrown overboard the moment their entrepreneurial spirit got the better of them. 'We were driving in a car2go through Amsterdam. "What an excellent sharing-concept, both of us noticed. Until we got stuck in traffic and scooters were overtaking us. That's when it hit us. Scooters are comfortable, quick, and efficient. Especially in increasingly busy cities. Turn that into a durable, electric scooter, and both the city and the public will be on your side as well. In our off-time we developed the idea. In April 2016, we both quit our jobs.'
Lean methodology
Quinten and Maarten are a duo of entrepreneurs with character and confidence and they have the experience and personalities to match. They're both result-oriented, critical, with the right amount of audacity. Quinten is the commercial man and leads the team; Maarten is the numbers man focused on data and details. 'From day one we've maintained a pragmatic approach. We think in solutions rather than in problems. We support every choice we make with data, while already thinking three steps ahead: we want a scalable product that can be multiplied and quickly improved upon through iterative, agile processes.' This is how they built their company from the very start.
They asked themselves critical questions. 'We want to be the best right away, stay ahead of our competition. Challenge the international market and surpass it. So, we thoroughly tested our proposition with stakeholders in the city. Is felyx an attractive alternative to other means of transportation? Does it contribute to a livable city? Does it fit with the parameters of sustainability? Both in Barcelona and in San Francisco this concept had already become a hit. This gave us the confirmation it could work for us as well.'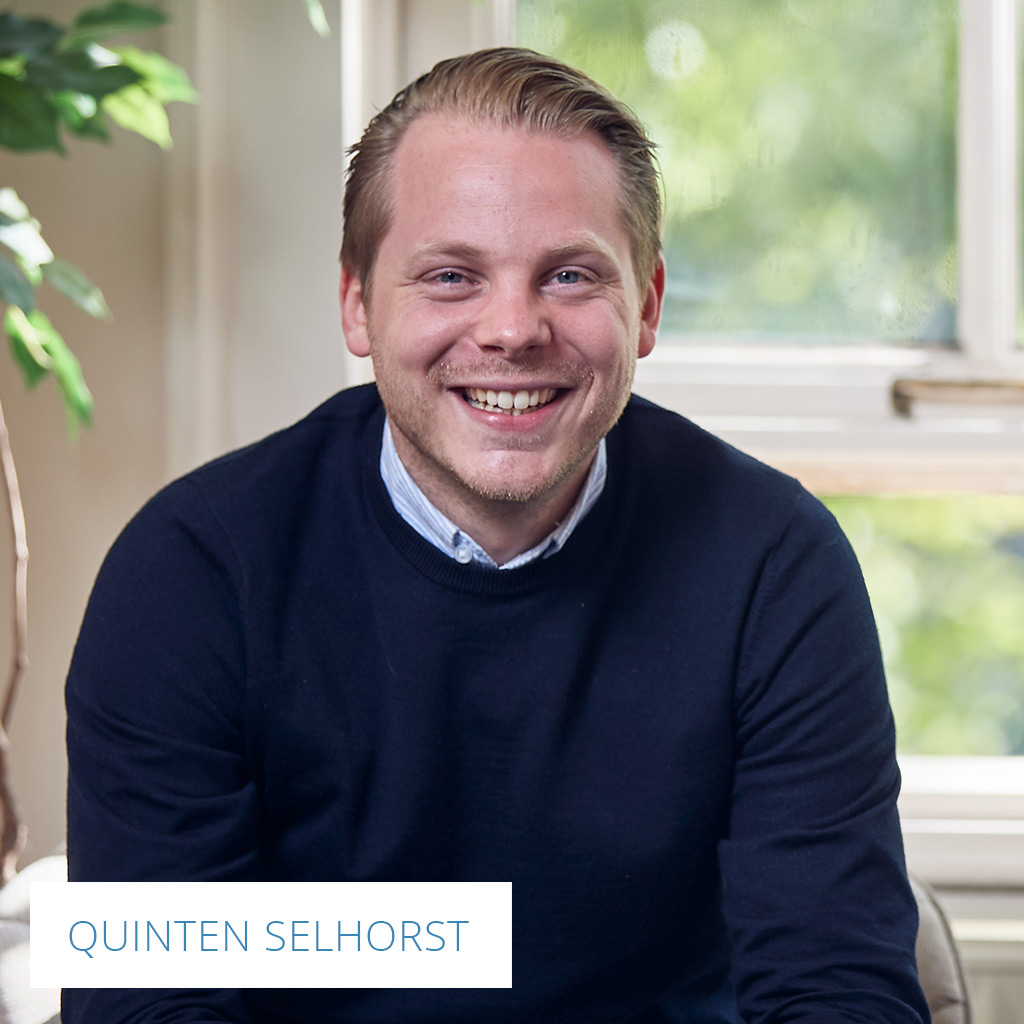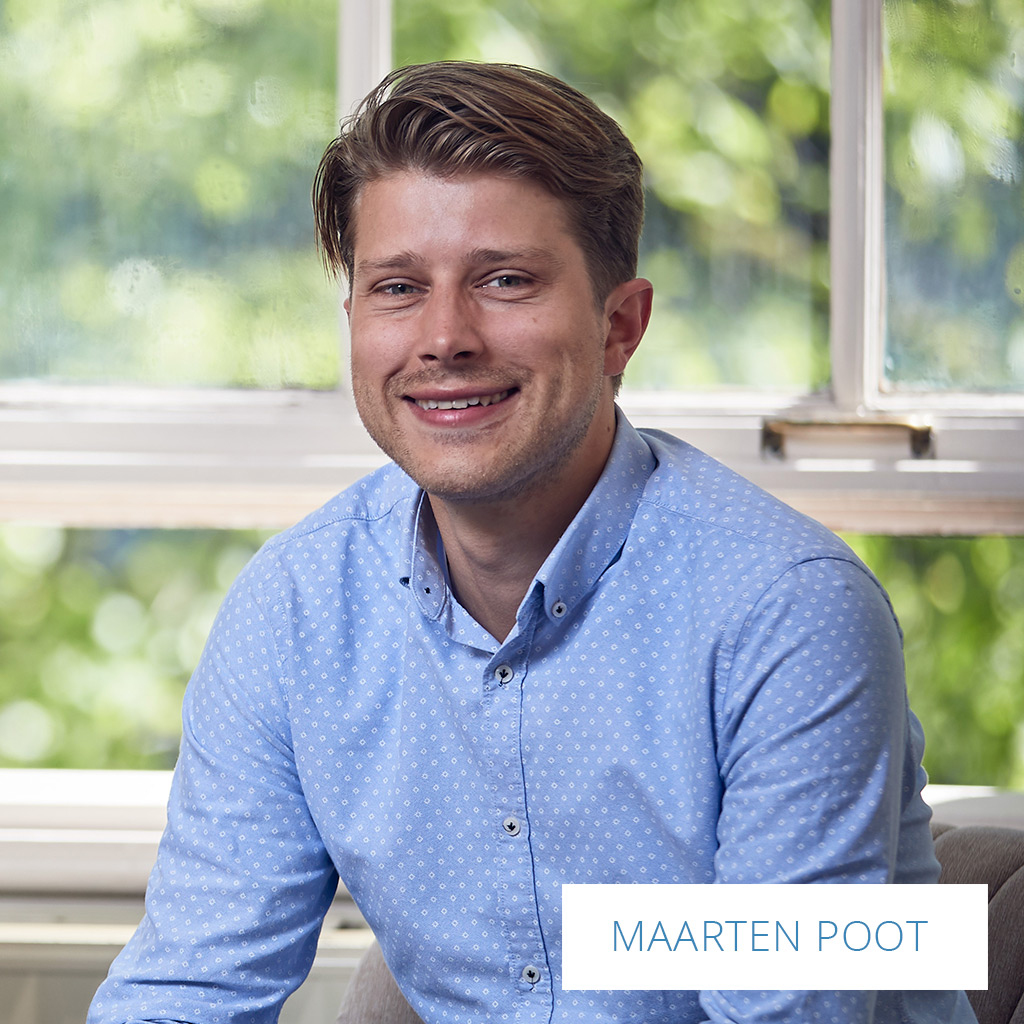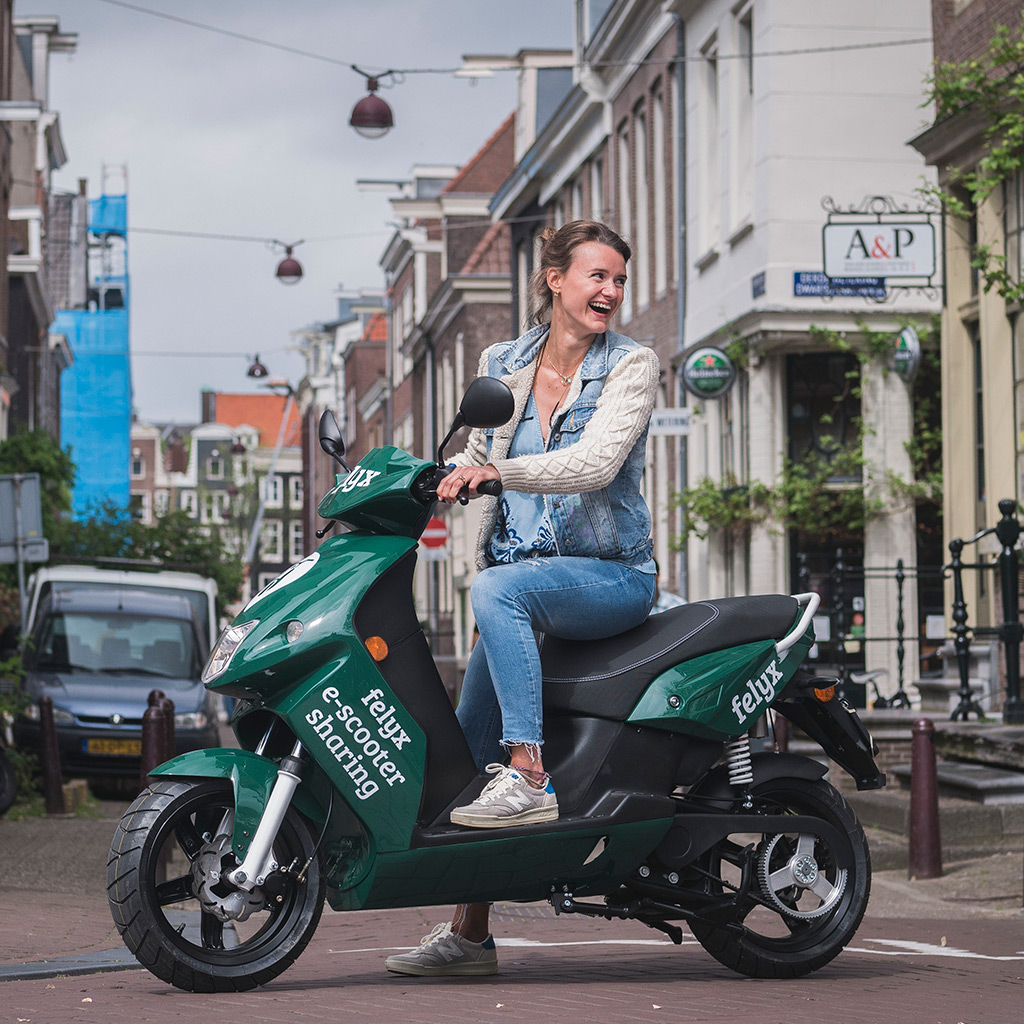 Important advisors
The city provided the founders with advice. 'If you want to start an urban mobility service, you'll have to deal with the local government. Regular scooters have a bad reputation – they drive too fast, CO2 emission, stench and noise pollution. The city's advice was to mitigate the downsides as much as possible. This would increase the goodwill factor for our concept considerably. We opted for durable electric scooters, limited to the legal limit of 25 km/h and equipped with a friendly bicycle bell.'
The technology had to be top-of-the-bill. 'We don't just want any e-scooter, we want the best, most eco-friendly and safest one. Our German supplier Govecs is an international market leader that only works with top quality parts. Good software and hardware are also crucial. You want a user-friendly, smart app, you don't have to worry about. Communication with the e-scooter needs to be spotless. Sign up, verify, look for a scooter and be on your way.'
365 days of bread and water
'The financial part was an adventure. The first year everything had to make way. We lived an austere lifestyle. No weekends away, fancy dinners or vacations, but peanut butter sandwiches for lunch for a year. We also focused on informal investors. Through a pitch, we collected the first 400k in pre-seed capital, followed by another 700k through crowdfunding to finance the e-scooters.'
In the summer of 2017 the first 108 e-scooters hit the streets of Amsterdam. Quinten and Maarten were still doing everything themselves, from giving out e-scooters to perfecting the app, regulating cashflows and customer service. And at night, they'd drive through the city to collect the empty batteries and charge them back up. This was still done at home, because of a lack of electrical capacity. 'At times there were twenty-odd batteries in the living room. They had to be charged up and placed back into the scooter the following morning.'
The entrepreneurs are proud they've already managed to standardize much of the work. A strong team in the head offices located on the Herengracht takes care of IT, Operations, and Marketing. There's a counter on display constantly showing new incoming registrations. There's no way around it: so far, felyx has been a success. 'We always knew our idea would work. We researched everything to the last detail, and we've purposely designed our organization to be able to scale up. This year, we'll expand our fleet to 1000 e-scooters in several large (inter)national cities.'
No shine without friction
The entrepreneurs work from their 'sweet spot': the tension between maximum effort and optimal results. 'Being a pioneer is exciting. You're not sure whether you can do something. This makes succeeding that much more satisfying. We're constantly looking for that friction. Sometimes it burns. You need to be able to handle that. It's something we also ask from our employees. felyx has the potential to become an international market leader. This demands the best people with experience in scale-ups. They will earn the key positions with a salary and equity stake to match.'
With a fresh batch of top-shelf talent felyx wants to hit the international market. The Global Head of Expansion will be end-to-end P&L responsible for strategy, scaling and execution of this rollout. With a team, of course. The first step? 'Expansion in Dutch cities. The conditions: our target group has to be well represented in those cities. Young professionals, freelancers, and students. There must be a need, caused by busy traffic, air pollution, and a congested public space. And a need for a durable means of transportation getting you quickly from point A to point B.'
In short: every large city. 'We are capital-intensive, but we're holding a pair of aces. We're already in talks with international venture capital parties to scale up as quick as possible. Rotterdam, Berlin, Rome, Beijing. Who knows? The sky is the limit, we believe we can conquer the entire world.'