The management of portfolio companies within private equity requires specialist skills. Buy-and-build investors use financial and strategic resources to enable numerous initiatives and focus on results. This ensures a rapid pace and high level of transformations and expansion.
HAL Investments is joining forces with its portfolio companies to train future management itself with the Portfolio Leadership Development Program. Participation is open to top-ranking, university-educated professionals with at least three years' work experience in consulting or a management traineeship. Because the focus is on a fast track to a management position, participants spend two years rotating between portfolio companies and work closely with CEOs. The program has a good track record of promotion to management positions.
The HAL Investments LDP is a proven success. The next cohort will therefore be able to start soon.
"I'M TEACHING THE ORGANIZATION TO ADAPT A SMARTER APPROACH TO DATA."
Wahid Vardak
Wahid worked in business development at a sustainable energy company and joined LDP in 2022 at Infomedics.
"MY PLACEMENT AT TABS WAS SUCH A SUCCESS THAT I NOW HAVE A PERMANENT APPOINTMENT HERE."
Sanne Hettema
Sanne worked at Strategy& and was Head of Development for SNTR. She began the LDP in 2020 and is now Chief of Staff at TABS.
Portfolio Leadership Development Program
The HAL Investments portfolio is made up of medium-sized to large companies with strong potential for growth that can be unleashed by boosting strategic capacity. At management level, that means a lot of people management, hands-on product development, direct customer contact, and a range of operational issues while also engaging with management teams at a high level of abstraction.
"Good management is a rare commodity and a bottleneck for growth," says Barry Lassche from HAL Investments. The management of portfolio companies requires specialist skills—for example, experience at a corporate is not the right training for a medium-sized company, and consulting is too hands-off. Since there was a lack of spot-on training, HAL Investments and its portfolio companies have taken matters into their own hands by setting up their own Portfolio Leadership Development Program. Following the great success of the first two cohorts, Top of Minds is now commencing recruitment of the third cohort.
"WORKING HERE GIVES ME THE OPPORTUNITY TO COMBINE THE TANGIBLE WITH THE STRATEGIC."
Dirk de Boer
Dirk began his career at Van Oord. He started the LDP in 2020 and completed projects at Atlas Professionals and MUNT Hypotheken.
"I HAD THE HONOR OF LEADING THE INTEGRATION OF A RECENT ACQUISITION."
Daan Alberdingk Thijm
Daan has a background at SparkOptimus. In 2021, he started the LDP at Infomedics.
Rotation
Over the course of two years, participants rotate between projects at portfolio companies. Projects generally last between 6 and 18 months and add immediate value to the business. During the program, participants become acquainted with several different organizations and management teams.
Prospects
The program is seen as a great success by portfolio companies and participants alike. The first cohorts have already resulted in numerous permanent appointments, and the recruitment of the third cohort is now starting. Applicants can apply via Top of Minds by contacting Imke Peters at imke.peters@topofminds.com or completing the form at the bottom of this page.
"EVERY MORTGAGE APPLICATION AT MUNT HYPOTHEKEN GOES VIA MY TEAM."
Remko Wiesman
Remko (formerly at BCG) took part in the LDP in 2020 and now has a permanent appointment as Operations Manager at MUNT Hypotheken.
"IT'S GREAT COMPARING NOTES WITH PEERS AT ANOTHER PORTFOLIO COMPANY."
Mathijs Weck
Mathijs worked at Monitor Deloitte before starting the LDP in 2021. His first project was at Top Employers Institute.
Coaching
The Leadership Development Program is a unique partnership between HAL Investments and its portfolio companies. The investor provides a coaching program to fast-track participants' development. The coaching program is made up of the following elements:
Hiring Manager: day-to-day guidance and coaching from the management of the portfolio company where you are posted.
External Mentor: an experienced expert from the HAL network to consult with about concrete business issues on a one-to-one basis.
Peer Coaching/Peer Review: special theme-based days with participants from the Leadership Development Program.
Training modules: on such relevant topics as Personal Strengths Development, Impactful Influencing, Managing Stress & Energy, Leading Stakeholders.
Participating portfolio companies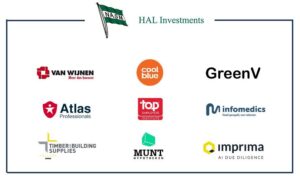 Interested?
HAL Investments is partnering with Top of Minds to fill this vacancy.
To express your interest, please contact Imke Peters at imke.peters@topofminds.com.