Interview with Michiel van Ogtrop

Michiel van Ogtrop, CO-Founder Travelteq.
Michiel van Ogtrop is one of the founders of the successful scale-up Travelteq. With their stylish yet functional travel and laptop bags they provide their customers with a more enjoyable travel experience. At the Travelteq head offices, located in the center of Amsterdam, Top of Minds spoke with Van Ogtrop about entrepreneurship, the idea behind Travelteq and his ambitions for the scale-up. Having already opened their first store in Amsterdam is just the beginning, according to Van Ogtrop – but his ambitions reach much further. The first step? Hiring a strong Managing Director who will help him realize these ambitions.
Vacancy for Managing Director at Travelteq
Passion for travel and entrepreneurship
Entrepreneurship is in Van Ogtrop's blood. Though he describes it as more of a mindset: "I'm always busy working out ideas and putting plans in place. See that building across the street? Right after my studies, I looked into the possibility of opening up a short stay because I noticed that particular market was on the rise. Where exactly can I identify opportunities and how can we do better? That's something I'm constantly thinking about." After his master's degree in Entrepreneurial Management he did not however immediately start out as an entrepreneur. "I didn't want to become an entrepreneur just for the sake of it, it had to originate from an idea. After my studies, I started out at Boostcompany. I witnessed firsthand what works and what doesn't, and it taught me how to put a brand on the map."
Besides his work at Boostcompany, Ogtrop kept himself busy with working out ideas. A passion he shares with entrepreneur Maarten den Biggelaar, founder of, among others, Planet Internet, The Box and Quote Media. "The moment I met Maarten we instantly clicked. We planned a yearly lunch to pick each other's brains and work out ideas. Besides my mentor he also became my friend. During one of our lunches Maarten told me about his idea to do something with travel bags – this is now almost nine years ago."
Elevate life on the move
"I believe the best business plans originate from a service or a product that you yourself actually miss. For his work, Maarten flies all over the world, and I also consider myself a keen traveler. Maarten noticed laptop bags always either had a nice design or they were functional, but never both. What this boiled down to was having the choice between a functional, but unattractive bag or a bag with a stylish design not really suitable for comfortable travel."
And exactly where those two concepts intersected is where Maarten and Michiel decided to position Travelteq: high quality bags, both stylish and practical. And completely direct-to-consumer. "In those days, this idea was unique, even though we thought it was obvious. We wanted to maintain grip on the quality and service, which meant the entire chain had to be in-house. From design, to production, to shipping. In our design, we landed on a combination of leather and nylon, classical and modern at the same time. We traveled to Italy to handpick the best manufacturer and suppliers."
Currently, there are three private investors providing the company with financial backing as well as a considerable amount of industry know-how, but back then Van Ogtrop and Van den Biggelaar made the decision to go with crowdfunding: "In the beginning, we deliberately decided on crowdfunding because it enabled us to validate our business case and it provided us with the insurance we wouldn't be stuck with an enormous amount of bags for which there might not be any demand. And because at the time crowdfunding was relatively unique, it netted us a lot of free publicity of which we still reap the rewards."
Less is more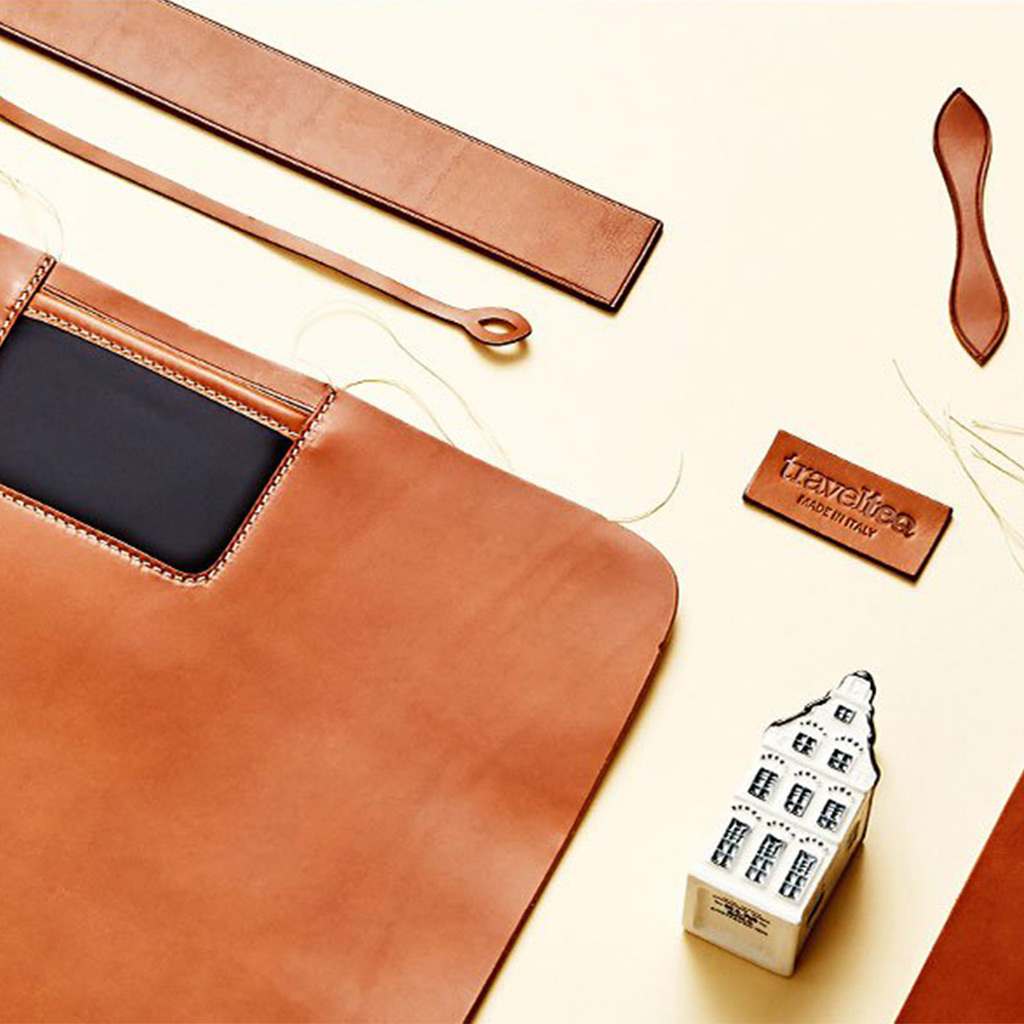 Identifying opportunities is second nature to Van Ogtrop and Van den Biggelaar, so there's never a shortage of ideas. Van Ogtrop: "As soon as you delve into the life of a traveler, you can spot opportunities everywhere in making life-on-the-move both easier and more elegant. This meant we quickly decided on expanding into other product categories, like a travel-clothing range with non-iron shirts and quick-drying swimming trunks. There certainly was a demand for these items but adding new products to our portfolio also meant implementing new processes, from production, to dimensioning, to returns. This overly complicated the back end of our business." Now, the focus has been brought back to Travelteq's core business: designing the best travel and laptop bags in the world. We prioritize quality, and design always goes hand-in-hand with functionality.
And that focus is paying dividends. Travelteq now sells thousands of bags every year, mostly to customers in The Netherlands, the US, Germany and England, and all the while the company continues to grow. In addition to about 90 percent of their bags being sold online, they recently opened up their own store in the trendy Nine Street area in Amsterdam and their ambition is to do the same in other cities and in other countries. Van Ogtrop: "I envision it becoming a true brand experience. In the stores we don't just want to sell our own bags, but also other products making traveling easier and more comfortable, like Bose noise-cancelling headphones blocking out the terrors of crying babies on your flight. We test the products to ensure they provide the quality the customers are looking for. See it as a Travelteq stamp of approval for quality and style."
Van Ogtrop is an entrepreneur through and through who knows what he's talking about. He's bursting with energy and ideas to further expand Travelteq, realizing this will take time. "I wish there were twice as many hours in a day for me to seize every opportunity I see. That's exactly why I'm extremely excited about hiring a new Managing Director to help me take Travelteq to the next level."