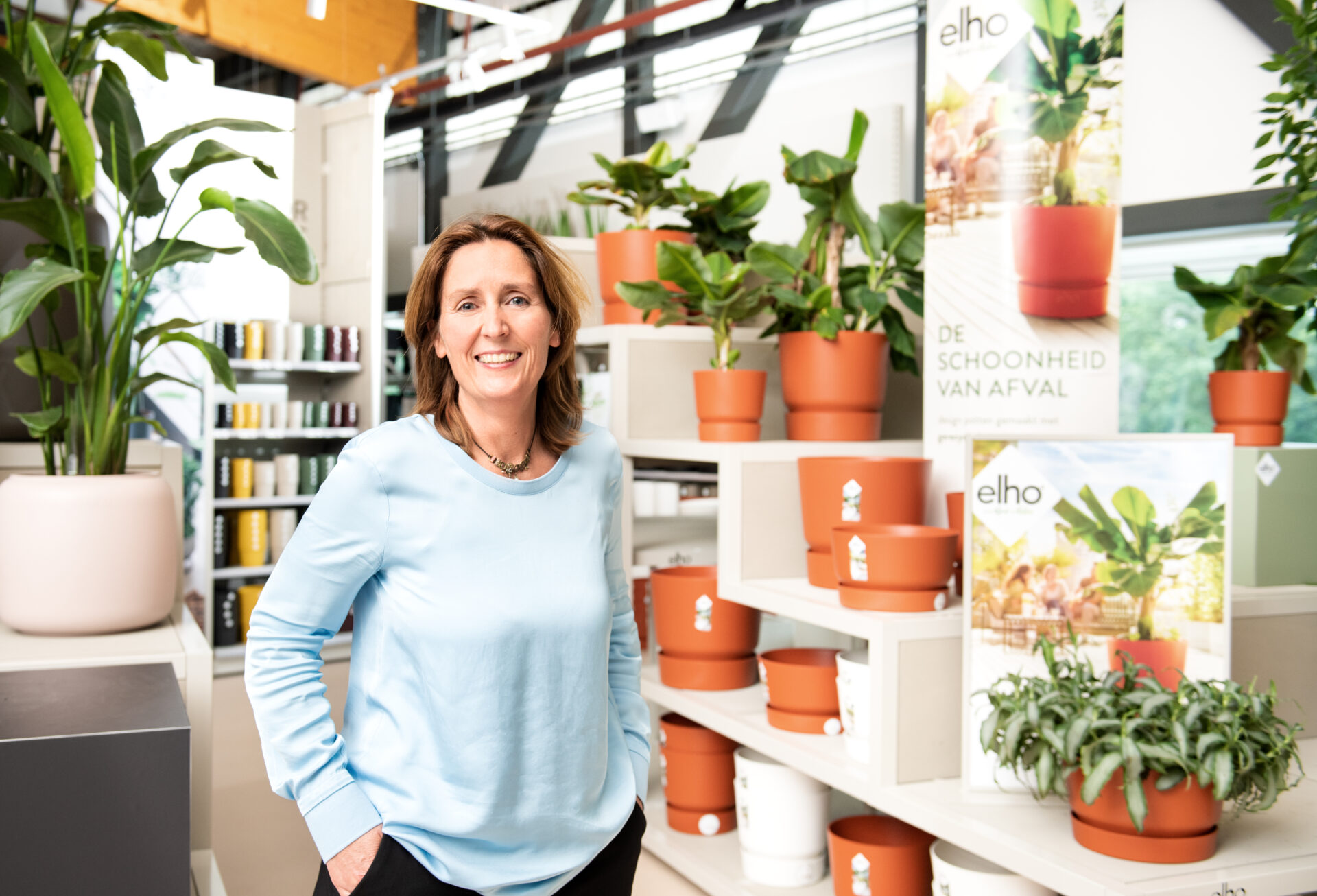 Career advice on moving from corporate to SMEs
Plenty of professionals toy with the idea of leaving the well-worn corporate ladder and making their own way in the SME landscape. In 2018, Melanie Meskers took the plunge. After 20 years at Unilever, she became CCO of elho, a family-owned Dutch company that's leading the way in the international market for plastic designer planters. Top of Minds sat down with her to discuss this career move.
Tip 1: Success is built together
If you ask Melanie about the greatest successes of her career, her mind doesn't go to personal achievements, she's focused on what she achieved with her colleagues. "When I was leading the Home and Personal Care unit in the Benelux, we posted outstanding results as a team. We grew the business quickly in a highly competitive market, and at the same time set up a Benelux organization and successfully implemented a major acquisition. I look back on those 4.5 years with pride."
The collaborative component was therefore a major factor in her choice to move to elho. "I very intentionally made the move to a smaller organization," Melanie says. "I've seen and experienced a wide range of categories in my career at Unilever. In my last role there, I had global responsibility with a long-term horizon, but I missed running a business with a team. I had experienced that before elsewhere at Unilever, and I wanted to find that again in my new job. Achieving results together, making an impact and initiating change." That's how she ended up at elho, an international family business with Dutch roots. The company has 300 employees in the peak season and is on the precipice of a major professionalization drive.
Tip 2: Do your part to make a better world
At first glance, the move from Unilever to elho may not seem like the obvious choice, but for Melanie, it was a step that just made sense. "Unilever is a company that takes its responsibility to the world very seriously. I wanted to hold on to that. At elho, the mission is intrinsic to the products: to inspire more people to surround themselves with green and enjoy nature." That goes way beyond simply producing attractive pots. Production is powered almost entirely by the windmill in the backyard, 80% of all raw materials elho uses are recycled, and the goal is to get that number to 100%.
Resume Melanie Meskers
2018 – nu
CCO, elho
2017 – 2018
Managing Director | FMCG | Consumer Goods | Marketing & Sales
2015 – 2017
Global Director Family Brands Cooking, Unilever
2011 – 2015
Category Director Baking, Unilever
2008 – 2011
Marketing Director Home & Personal Care Benelux, Unilever
Advice 3: Find a challenge that really suits you
Before Melanie was introduced to elho, she'd never heard of elho. Even though, as it turns out, she had several elho pots in her own garden. And many people do. "You'll find elho in a lot of households, but brand awareness is low. That's one of the challenges I want to take on in the coming years: building a real consumer brand, growing the category and shaping organizational change.
When you look at it that way, the sky is the limit. There are plenty of opportunities to grow, both internationally and digitally. Our major goal is to double sales within a few years." Because of her background at Unilever, Melanie is extremely well-versed in bringing category thinking into an organization and building a consumer brand. "But I can also sink my teeth into something new here because the transition requires a different, complementary kind of leadership at this company."
Tip 4: Prepare for the transition
In more than 55 years, elho has built a business in more than 75 countries. The company is now in the hands of the second generation. "They have ambitious plans to take the organization to the next level. To achieve that, we're building a high-performance team that will do an even before job of thinking from the consumer and customer perspective." That's why they're attracting talent of Melanie's caliber. Yet, the company still retains the hallmark benefits of a family business: short lines of communication so strategic decisions can be made and implemented quickly.
Melanie prepared for this transition by talking to plenty of people beforehand. "Some things are the same whether you work in a big organization or a small one. For example, to be successful, you have to really understand your consumers and customers. But in one company, it may be natural to think from a customer profitability perspective, while that's not yet true for another. Plus, in a smaller company, you have fewer processes, fewer brands, less data and fewer people to get the job done. At Unilever, if you lead a business unit, you can use your entire portfolio to compensate if one of your brands goes down temporarily. At elho, we only have one brand, so we only have one chance. Because I'd prepared myself for that, it didn't come as a shock. And now, new labels are being added to the portfolio that we also expect to show strong growth."
Tip 5: Make sure you're flexible
"In March, we were confronted with the fact that 70% of our stores worldwide were suddenly closed," says Melanie. "Right in the middle of peak season. The warehouses were completely full. We had to scale down very quickly. But as soon as the stores reopened, it was clear how relevant our purpose is. People really want more green in their lives. Business picked up so quickly, that it was almost impossible for us to keep up. At times like that, it shows how important the agility of your business is."
Melanie frowns for a moment as she thinks back on the COVID era. "It sounds really crazy because, of course, no one wants it to happen, but a crisis like this is the best team-building activity you could ask for as a company. Everyone is so much more connected. And that connectedness, I think, is the most important ingredient in a high-performance team – the feeling that my success is your success, and your success is mine. You'll have to do it together and be there for each other in a team."