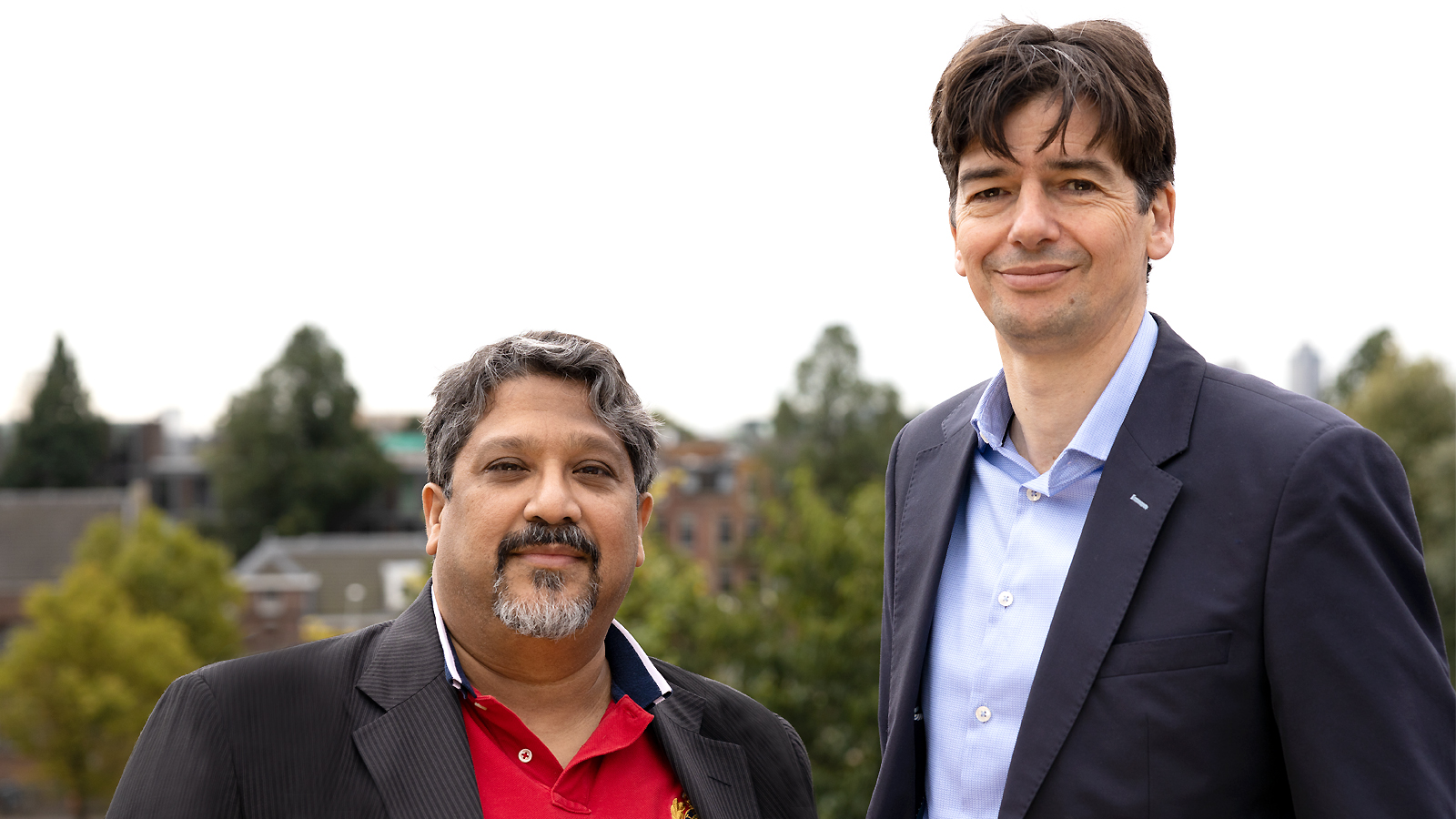 Career advice – where profit and purpose meet

Social responsibility and sustainability are increasingly important topics for more and more professionals, but many are still seeking a way to unite their professional and personal ambitions. Top of Minds spoke about this with Simanta Das, Founder of Aurelius Life, and Hans Jakop Burkens, CEO of Aurelius Life.
Aurelius Life is a prime example of a business doing good to do well. They are developing tech solutions for hospitals in emerging countries to help them improve the quality of care while reducing costs. Their business model is based on the triple-win principle: while Aurelius Life is making a profit and hospitals are saving money and time, ultimately, they are collaborating to elevate the quality of healthcare and make it more affordable for millions of people.
Advice 1: Try your hand at different things.
After completing his Ph.D. in High Energy Beam Physics at University of London, Simanta Das started his career as a strategy consultant at one of the larger firms. It didn't take long before the entrepreneurial bug hit Simanta and he joined an internet startup in London. With a smile, he confesses that like most start-ups, the business didn't make it past the first year. "But it was a fantastic learning experience." He returned to consulting for a while, and from there, he moved on to investment banking.
"Eventually, I realized that I didn't want to analyze the risks, but make an impact. My parents come from Northeast India originally and we still have very strong connections with the area, so I decided to give something back and make high-quality healthcare much more affordable in that region." That's how his pioneering journey into healthcare started: he built a hospital in Northeast India with 300 beds and its own diagnostic centers. "It's taken us twelve years to get here, but we can now do hip replacements for just 1200 euros, using the same products as hospitals in Europe or the US. We did that by reengineering a lot of the processes, looking at the volume flow, and seeing where we can actually improve efficiency and productivity without losing the quality of delivery."
CV Simanta Das
2020-heden: Founder & Chairman, Aurelius Group of Companies
2011-heden: Founder, Ziksana Learning Solutions
2010-heden: Founding Partner, Stalhmarg
2009-2010: Chief Strategy & Technology Officer, Kempen Bank
CV Hans Jakop Burkens
2021-heden: CEO, Aurelius Life
2020-2021: CEO, Geneses Medical
2017-2019: Head of International Accountmanagement, Customer Service, African Offices & CRM, Royal FloraHolland
2013-2017: Senior Director, Cimpress
2010-2013: VP Sales Europe, PF Concept
Advice 2: Focus on the ecosystem.
It was never going to be a single hospital for Simanta, though. To improve and expand the business model, he founded Aurelius, an organization to provide people in developing countries all over the world with access to high-quality healthcare at affordable prices. Aurelius consists of two entities: Aurelius Healthcare and Aurelius Life. Aurelius Healthcare is a buy-and-build organization focusing on the delivery of care through owning and operating hospitals, care centers, and diagnostics. Aurelius Life is building a tech platform to support hospitals with a wide variety of services, such as information management; remote diagnostics; inventory management, financial systems; procurement; and clinical decision support systems – the full ecosystem.
"We want to include a larger base of the population into our solution set. Making high-quality healthcare affordable is our mantra." – Simanta Das
Simanta: "The great thing about technology is that it's not capital intensive. To put it into perspective, building a hospital in Europe will cost anywhere between a hundred and three hundred million euros. But if you're building new technology, you can scale up with just a couple of million euros, as long as the right people are motivated to make it happen. Again, that's the importance of the ecosystem. Over the last ten years, we've built a global network of people who are skilled and driven to change the healthcare industry. I'm thrilled that exceptionally experienced people are joining us, such as Hans Jakop Burkens." Before becoming the CEO of Aurelius Life, Hans Jakop worked for different global companies like Heineken, Staples and Cimpress (Vistaprint). In those years, Hans Jakop gathered extensive knowledge of and experience in executive sales, supply chain, and digital transformation management.
Advice 3:  Be yourself and listen to what really drives you.
When Simanta told him about Aurelius Life, Hans Jakop immediately knew he had to be part of it. Hans Jakop: "Joining a scale-up can be a huge change when you're coming from a big corporate. Don't take a decision like this lightly. You have to know what motivates you. If that's big budgets, structure, and security, a scale-up might not be for you. Personally, I like change, impact, and making decisions. I joined Aurelius because it's small, lean, and agile, and it provides me with an opportunity to build something huge quickly and really make an impact."
Another element that fell into place for Hans Jakop was Simanta's holistic take on driving change. Hans Jakop: "I became intrigued with business ecosystems early on in my career. When I was responsible for Heineken's business development in Africa and the Middle East, I noticed that setting up a new brewery always had a tremendous impact on the local society. Employees, suppliers and so many other parties benefited from our operations. I always knew I wanted to use this again in my career. At Aurelius Life, I can leverage all the knowledge I've gathered over the last fifteen years, at Heineken and thereafter."
"It's a fast-moving train. If you want to hop on it, make sure that you're willing to go the distance." – Simanta Das
Advice 4: Learn from your mistakes.
The team at Aurelius Life is expanding rapidly and both leaders are keen to welcome professionals from a wide range of backgrounds into the organization. "But be careful," Simanta warns, "this is not for everyone. The first question you have to ask yourself is: are you ready to learn from your mistakes? Since we're doing something groundbreaking, there are many things that can go wrong. So be prepared for that. And if you're not ready to fail, please don't take the leap. "
Hans Jakop: "An example of how we work and learn, is the development of our clinical decision support system (CDSS). By default, a CDSS is a complex system. On top of that, we set ourselves the challenge to address issues that aren't addressed by anyone else in the market." Simanta clarifies: "A CDSS helps doctors make the right diagnosis in a shorter amount of time and decide on the right procedure at an earlier stage, resulting in faster recovery. These systems are widely used in mature markets. Unfortunately, the price of most licenses exceeds the annual revenue of many hospitals in emerging markets. But that doesn't mean these hospitals don't need a CDSS to help them improve their clinical decisions." Innovation at this level calls for a stiff cocktail of educated guesswork, controlled trial and error, rapid recovery from setbacks and the ability to scale up successes in a swift manner.
Hank Jakop: "We faced a number of challenges along the way, from finding universal definitions and data standards, to helping users capture the right quality of data. What we do every time, is take elements of our previous attempt and use them to build something new. We try to pivot it towards actually helping doctors."
Learning from experience is an essential ingredient of innovation and also the main component of the Doctors' Platform that Aurelius Life is building: doctors learning from each other and helping each other around the globe. "We have started setting up the Doctors' Platform, connecting the doctors of the Indian hospital to doctors of a prominent hospital chain in the US. We expressly introduce this platform as an equal knowledge exchange because we strongly believe doctors in so-called developed countries can learn just as much from those in the emerging markets as vice versa. It is our goal to not only exchange knowledge, but also exchange resources between hospitals in different parts of the world over time."
Advice 5: Use market insights to create win-win-win situations.
"At Aurelius Life, we decided to do things differently," says Simanta. "Instead of fixating on creating the most exhaustive product suitable for the most advanced markets, we focus on finding ways to help every hospital improve from where they are today, step by step. This is how we're building the Aurelius platform: we're developing an integrated solution architecture, which can be implemented as independent, loosely coupled modules or microservices, tailored to the specifc situation in that particular location. The platform offers key functions for running a hospital." Hans Jakop: "This is important because we've seen that individual solutions don't lead to systematic gains. We therefore also include services such as centralized procurement to optimize costs and remote diagnostics to better streamline patient flow. We see huge benefits by improving the procurement supply chain operations. Data insights and visualisation are key to getting better insights in spend and price development. This contributes to our main driver: better delivery of care at lower costs."
"Innovations don't always have to be huge to have an impact," Simanta adds. "Using the right technology in the right location is important. For example, a clinical support program in Tanzania uses old-fashioned text messages to assist midwives during births. The program was ridiculed at first for its low-level technology, but the local midwives really appreciated it and infant mortality came down by 63%. It all boils down to actually knowing what's going on in your market. From there you can do great things."
"Being part of this journey and being able to really have an impact gives me so much energy," Hans Jakop adds. "Our solutions are great for patients all over the world because patients feel better sooner; it's great for hospitals because it lowers the cost per patient significantly, and it's financially sustainable because they're paying us a relatively small fee for the software. The result is a win-win-win situation, which is the key principle of running a positive impact business. We are just getting started, but our impact will be long lasting."
"In this kind of environment, it's really important to take ownership. Be proactive, don't wait for things to come to you." – Hans Jakop Burkens